Which logo is the best? Pictures are inculded in this topic.
Alright it's voting time! So here's how we will proceed.
Rules:
We will have a poll you vote for the best one (can be yours).
After you will have to give a mark on every logo on 10. This is more important then the poll. If nobody gives us their reasons and marks SoulAssassin and me we will be deciding, It might not be your choice!
After you give us your mark explain your choice (not the poll your mark). do no give shitty reasons like, it's mine, It's beautiful. Your critics will make our designers improve. Please be original, don't always give the same reasons and don't copie reasons from others.
The logo with the most votes will be in the finals with the logo with the more points (marks). If both winners are the same logo, we will not have a 2nd vote. If tie there will be 3 finalists. We will decide the winner with a final poll.

You need to use the following preset for the marks. You can simply c&p. Replace x by your mark. Please keep it between 0-9, decimals are allowed.
1) x/10 //// reason:
2) x/10 //// reason:
3) x/10 //// reason:
4) x/10 //// reason:
5) x/10 //// reason:
6) x/10 //// reason:
7) x/10 //// reason:
____________________________________________________________________________________________________
1)
Made by Nerzhul
2)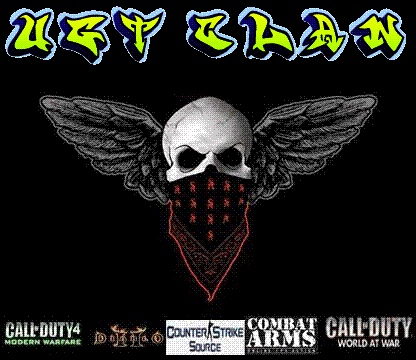 Made by SoulAssassin
3)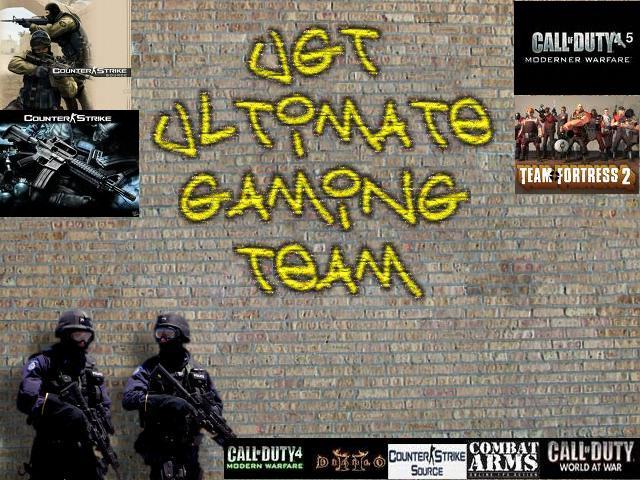 Made by SoulAssassin
4)
Made by Nzsoldier
5)
Made by Jokerz-
6)
Made by Jokerz-
7)
Made by Jokerz-
I would also Thank Jokerz- for our wonderful front page logo. Nice Work.

Last edited by nzsoldier on Tue Jul 07, 2009 1:50 am; edited 2 times in total
1) 6/10 //// reason: Great but looks like someone didnt read the rules. sorry. If it would of been in the rules it would of been awsome

2) 7/10 //// reason: Can't really understand the UGT font.

3) 8/10 //// reason: Nice , like the writing and swat guys. Its kinda big and the mini logos make it heavy we want them to concentrate on our clan.

4) 8/10 //// reason: In rules thought nothin special

5) 6/10 //// reason: too big,quality kinda floopy but nice ct

6) 6/10 //// reason: too big, quality kinda floopy nice ct guy

7) 8/10 //// reason: nice but wall background isnt the best these days try getting real muzzle flashes
1) 4/10 //// reason:Rules said no names and my name wasnt in it

lol and plus only NzSoldier Me and Jokerz- names would be aloud but rules say no names
2) 8/10 //// reason:Cuz its mine hehe
3) 9/10 //// reason:I like the writing i choose and the pictures and the ct guys

4) 7/10 //// reason:Good Size
5) 5/10 //// reason:To big Like the ct guy Knife coming out of shotgun
6) 5/10 //// reason:To big Like the ct guy Knife coming out of shotgun

7) 7/10 //// reason:Its nice but the CT and T look weird...good choice of writing


1: 5/10 : No Respect Of Rules And Yeah Should Have Put SoulAssassin In It Lol At Least.
2: 7/10 : It's Rly Cool I Like The Skull With The Red Rag And Wings But Kinda Don't Like The Graffiti Script.
3: 8/10 : I Really Like It, The Two Swat Guys And The Style's Great, Althought Kinda Big And Weird How All Game Tags Are Spread Out Could Have Been More Simple With Only The Games We Play The Most ( Cs, Css, TF2, Cod Or W/E )
4: 7/10 : It's Nice, Simple And Small.
5: 6/10 : Background Could Have Been Better, Too Big, Script Could Have Been Changed But The Guy Is Nice And It's In Rules.
6: 6/10 : Again Background And Script Could Be Better, Is Too Big, Nice SAS Character, And In Rules.
7: 8/10 : Font Could Have Been Beter I Agree, But Isn't That Bad, Idea Was Kinda Good, Well Placed And Good Script, Terrorist Looks A Little Bit Weird, But Nice Size And In Rules.
BTW: Sorry If I Make Mostly Logos/Tags In Link With Counter-Strike, But It's The Game I Play The Most, But Can Do It With Anything.

Jokerz-
_________________


Jokerz-

UGT admin team





Posts

: 72


Points

: 1095


Reputation

: 6


Join date

: 2009-04-23


Location

: Montreal / Quebec



Jokerz- wrote:1: 5/10 : No Respect Of Rules And Yeah Should Have Put SoulAssassin In It Lol At Least.
2: 7/10 : It's Rly Cool I Like The Skull With The Red Rag And Wings But Kinda Don't Like The Graffiti Script.
3: 8/10 : I Really Like It, The Two Swat Guys And The Style's Great, Althought Kinda Big And Weird How All Game Tags Are Spread Out Could Have Been More Simple With Only The Games We Play The Most ( Cs, Css, TF2, Cod Or W/E )
4: 7/10 : It's Nice, Simple And Small.
5: 6/10 : Background Could Have Been Better, Too Big, Script Could Have Been Changed But The Guy Is Nice And It's In Rules.
6: 6/10 : Again Background And Script Could Be Better, Is Too Big, Nice SAS Character, And In Rules.
7: 8/10 : Font Could Have Been Beter I Agree, But Isn't That Bad, Idea Was Kinda Good, Well Placed And Good Script, Terrorist Looks A Little Bit Weird, But Nice Size And In Rules.
BTW: Sorry If I Make Mostly Logos/Tags In Link With Counter-Strike, But It's The Game I Play The Most, But Can Do It With Anything.

Jokerz-
Its good you do that cuz well thats the game where in most of the time everyone mostly plays that game
voted will edit post later ...bit busy

AlexThePro




Posts

: 9


Points

: 15


Reputation

: 0


Join date

: 2009-05-08





Similar topics
---
Permissions in this forum:
You
cannot
reply to topics in this forum